So much for "this is an unpredictable draft, so teams probably won't be doing that much first-round trading." So, the Buffalo Bills are apparently up next with the 23rd pick.
22. Quay Walker, LB, Georgia
The Green Bay Packers select… Quay Walker. Our analysts have to give a spelling and pronunciation guide for his name, which is normally a sign for "I didn't have him going this round."
The Green Bay Packers are up next, they're apparently keeping the pick they received from the Las Vegas Raiders. I'm guessing they don't go quarterback again, the last time they did they opened up a huge can of worms.
21. Trent McDuffie, Defensive Back, Washington
The Kansas City Chiefs take New England's pick and use it to take Trent McDuffie from Washington to help shore up their defense.
The Patriots will now be picking at 29 and have also received the 94th and 121st pick from Kansas City. Because Bill Belichick loves nothing better than the all-important "value."
Up next is the New England Patriots unless… oh, of course, they just traded down. This is the Kansas City Chiefs.
This is the one thing I've gotten right, so I'll just point out that I had Pickett as being the draft's top quarterback:
"Kenny Pickett. Although it is possible that there will not be a starting quarterback for the long term in this draft's first round, there are still teams who are willing to take a chance. Pickett maybe isn't the first quarterback in most mock drafts, but he did few things wrong last year for Pittsburgh."
Profile: Kenny Pickett, Quarterback, Pittsburgh. Pickett's something of a one-year wonder, and would not have been anywhere close to a first-round pick in 2021's quarterback-rich draft. What a great year in college. In just the span of 13 games, he threw for 4,319 yards and 42 touchdowns. Although I doubt there will be a first-round starter, it is possible. It's also not impossible that he's out of the league within three seasons.
20. Kenny Pickett, Quarterback, Pittsburgh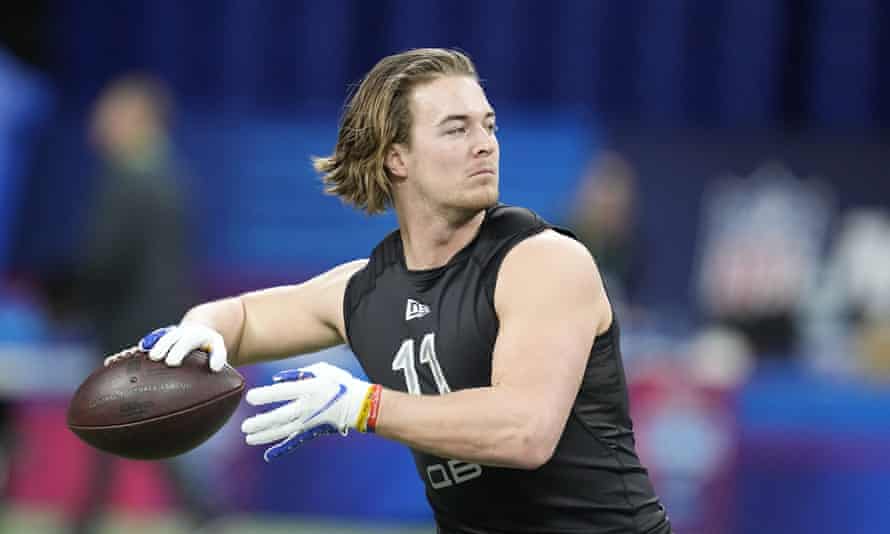 The Pittsburgh Steelers select Kenny Pickett with the 20th pick of the 2022 NFL Draft. This answer answers the question. This might seem surprising to some, as Malik Willis was being hailed the top QB prospect. But Pickett is already a Pittsburgh man so why not?
The Pittsburgh Steelers should be looking for a quarterback now that Ben Roethlisberger has retired, but is there one in this draft worth committing to? They're on the clock, so let's find out!
19. Trevor Penning, Offensive Tackle, Northern Iowa
With the 19th overall pick, the New Orleans Saints go with oversized-but-penalty-prone tackle Trevor Penning to improve their offensive line.
So that explains why Tennessee was like "no thanks, let's go young." We'll see how that works out for them in the next few seasons.
Now it's time for the Saints to make their selection. 121766859171
Listen: we in sports media love talking QBs, it's just our thing.
18. Treylon Burks, Wide Receiver, Arkansas
Well, the Tennessee Titans now could use a receiver. Well, they get one with the 18th pick of the draft in Arkansas WR Treylon Burks. I don't believe he can replace A.J. Brown was a good choice, however I think he was heading for free agency too quickly for Tennessee.
Titans trade A.J. Brown to the Eagles
Apparently, the Tennessee Titans are on the clock here? I don't…
Oh, here we have the reason: The Titans have traded receiver A.J. Brown to the Eagles for the 18th overall pick plus a third-rounder.
Well, I guess that's one way for Philadelphia to get a receiver in the draft.
17. Zion Johnson, Offensive Guard, Boston College
Well, that was quick. Los Angeles Chargers sign Zion Johnson, offensive guard from Boston College.
16. Jahan Dotson, Wide Receiver, Penn State
The Washington Commanders take Jahan Dotson, a wide receiver I didn't even have on my own personal mock first-round draft. Our NFL analysts praise him for having just two drops on the season.
Okay, now the Washington Commanders are actually on the clock, with the 16th pick of the draft.
Meanwhile, fresh off the Kyle Hamilton heist, the Ravens have made a trade involving an actual player. The Ravens have traded Hollywood Brown to Arizona Cardinals in exchange for two draft picks.
15. Kenyon Green, Guard, Texas A&M
The Texans take Texas A&M guard Kenyon Green in one of the first "okay, sure" selections of the draft.
Next up is the Houston Texans, with the No 15 pick they received from the Eagles, via the Miami Dolphins. It feels like I should start making charts.
Profile: Kyle Hamilton, Safety, Notre Dame. The 6ft 4in safety collected 138 tackles in two years as a starter at Notre Dame. The issue, however, is that his 2021 campaign lasted just seven games after he suffered a knee injury ("a pinched fat pad") on 23 October. However, NFL scouts can't resist an archetypical "good character" story like that of the injured Hamilton, a team captain, wearing an earpiece on the sidelines to remain involved in Notre Dame's games.
14. Kyle Hamilton, Safety, Notre Dame
At number 14, the Baltimore Ravens take the best available player. The Baltimore Ravens take the best available player. It feels like Notre Dame safety Kyle Hamilton had a good fall.
The Baltimore Ravens decide not to do any trading and they simply turn in their selection for the 14th overall pick.
13. Jordan Davis, Defensive Tackle, Georgia
The Philadelphia Eagles have traded up to select… Georgia defensive lineman Jordan Davis. Although a solid player, it's not something you would trade for.
Why are they playing "Sweet Caroline?" That's our thing here in Boston. And even we hate it.
Okay, so now everybody has decided to get involved with the trades. The Philadelphia Eagles have moved up to the 13th slot, which was previously owned by both the Houston Texans and the Cleveland Browns.
This is definitely going to be one of the most second-guessed moves of this first round.
Profile: Jameson Williams, Wide Receiver, Alabama. Williams sustained a torn ACL during the national championship match, which could have caused him to be unable play for some teams. Still, the high school track star can also act as a kick returner (he returned two for touchdowns his last year for the Crimson Tide).
12. Jameson Williams, Wide Receiver, Alabama
The Detroit Lions select Jameson Williams, a wide receiver from Alabama, after their trade with Minnesota (details below).
The Lions aren't done today, they have moved up to number 12 after a trade with the Minnesota Vikings.
We have the details about the trade: the Saints must have really, really wanted Olave.
11. Chris Olave, Wide Receiver, Ohio State
After the world's LONGEST Amazon Prime promo, the Saints finally announce their selection. The New Orleans Saints have selected Ohio State wide receiver Chris Olave with the 11th pick. This officially ended my string of previously mentioned players being chosen.
Washington Commanders trade down
Well, apparently they decided to trade down from the eleventh pick, so instead, the New Orleans Saints are on the clock.
No details yet.
I don't want to worry anybody but I think the Jets just made two good selections? Normal world.
And now the Washington Commanders (who I think should have remained the Washington Football Team) have a decision to make with the eleventh pick.
Profile: Garrett Wilson, Wide Receiver, Ohio State. In three seasons at Ohio State, Wilson went off for 23 career touchdowns. In 2020 he rattled off four straight games of 100 yards receiving – only one other Buckeye has ever done that. He is possibly the most offensive player in the draft, at least for scoring threats. He's had some drops and is not a refined blocker, but you can work with that as an NFL team.
10. Garrett Wilson, Wide Receiver, Ohio State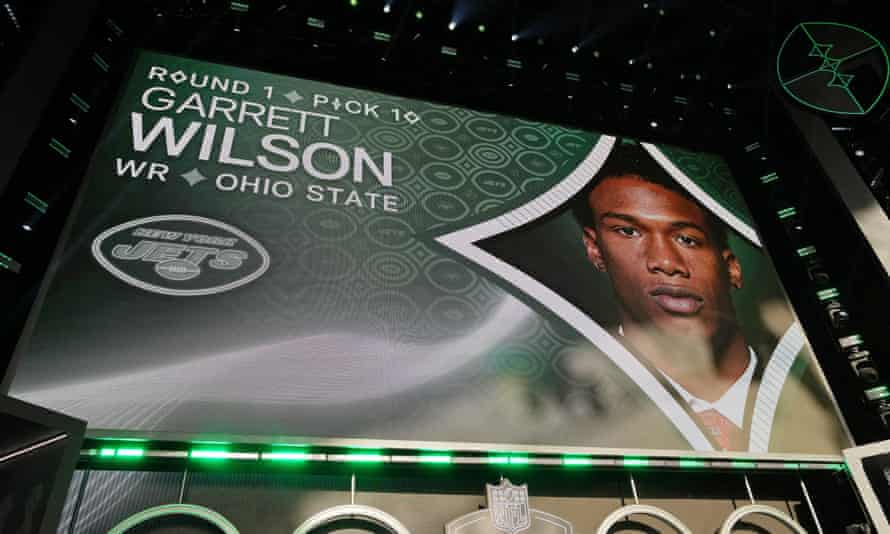 The Jets go with Wilson with the number 10 pick, which basically means that Wilson and London will forever be compared to each other.
And, no you're not caught in a time warp, the Jets are picking again here at No. 10, a pick they received from the Seattle Seahawks.
Paging O. Henry
Profile: Charles Cross, Offensive Tackle, Mississippi State. Cross was the "most likely" to be selected in the draft. However, number nine seems about right. Cross has 22 starts to his name, but he has all the physical gifts that get coaches imagining what he could do, as opposed to the little that he has done. In his defense, he didn't give up a quarterback hit during the 12 games he played last season.
9. Charles Cross, Offensive tackle, Mississippi State
Well, the Seahawks will jump on the Falcons' curious Drake London pick and go with tackle Charles Cross.
The Seattle Seahawks, who received this draft pick from the Denver Broncos in the Russell Wilson trade, have made their selection at number nine.
The Seattle Seahawks are on the clock now with the ninth pick, which means that I managed to have something pre-written about the first eight picks in the 2022 NFL Draft. It is my Super Bowl title.
Profile: Drake London, Wide Receiver, USC. Drake London, Wide Receiver, USC1125820433 receiving yards last year was 1,0 He's not very fast but the 6ft 4in London has numbers that bumped up his draft stock over these last couple of weeks: his 88 catches and 1,084 receiving yards last year were more than Garrett Wilson and Chris Olave, who make up his main competition at receiver here.
8. Drake London, Wide Receiver, USC
Oh there's a leftfield pick. Atlanta Falcons select Drake London, USC wide receiver. Garrett Wilson should have been higher up on the Falcons' board for receivers.
Atlanta Falcons are on the clock with the eighth overall pick. Here's a guess: Mississippi State tackle Charles Cross.
Profile: Evan Neal, Offensive Tackle, Alabama. Neal gives you versatility: he's started at right and left tackle, for a total of 40 games. This is a high-pressure job, considering that Alabama can often feel like the NFL's minor leagues. Neal has both size and speed and feels like he fits just about anywhere.
7. Evan Neal, Offensive Tackle, Alabama
The Giants are back on the clock and they quickly snap up the other great tackle on the board in Evan Neal with the seventh pick.
Random note: the broadcast gave us one of our first looks backstage where Pittsburgh quarterback Kenny Pickett is preparing for what might be a long night. The camera captured his girlfriend scrolling through her smartphone, with an "How long will we be here?" expression on her face.
That's the kind of reality show stuff that I love about NFL Draft broadcasts.
Profile: Ikem Ekwonu, Offensive Tackle, North Carolina State. As far as best offensive tackle, it appears that the coin is flipping between Evan Neal and Ekwonu. Last season's NFL playoffs demonstrated the importance of maintaining one's quarterback upright. Expect plenty of draft-ready teams to make moves to strengthen the o'line in this exciting draft. One could do worse than snapping up Ekmonu, a unanimous All-American who ended his college career being named the best blocker in the ACC.
6. Ikem Ekwonu, Offensive Tackle, North Carolina State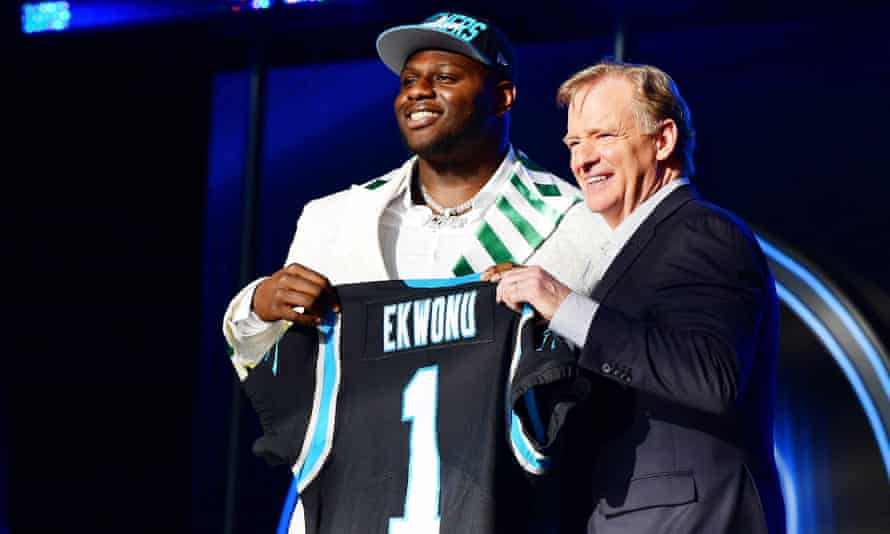 The Carolina Panthers do indeed take the first offensive player in the 2022 draft by selecting North Carolina State tackle Ikem Ekwonu. They have the offensive line help they need and are now the Panthers.
That's five straight picks without an offensive player being selected, which is basically the story of this first round in a nutshell. We'll see if Carolina Panthers can change this trend by selecting the sixth pick.
Profile: Kayvon Thibodeaux, Edge Rusher, Oregon. Concerns about an early departure from the combine, along with the fact that he missed some of last season, caused him to tumble down several mock drafts. Thibodeaux, a talented and skilled defensive player in draft, was able to place first overall.