.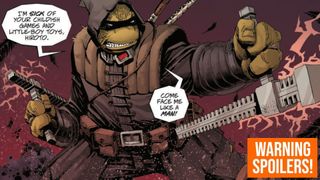 TMNT: The Last Ronin #5
(Image credit: IDW Publishing)

Nearly two years ago, IDW released the first issue of an ambitious story set in the world of the Teenage Mutant Ninja Turtles. In keeping with comic book conventions of having heroes age up to take on new challenges, The Last Ronin #1 featured an older Michelangelo fighting against Shredder's grandson, who had killed his father and brothers as mutants. On April 27, the fifth and final issue of the limited series went on sale, bringing the story to an explosive conclusion.
Spoilers ahead for TMNT: The Last Ronin #5
The story begins with Michelangelo arguing with the ghostly visions of his dead brothers, images that have been with him since the beginning of the series. The turtle brothers have a heated argument about whether Mikey can defeat Shredder's grandson Oroku Hiroto. Mikey ignores the voices of his brothers and focuses instead on the words written by his father Splinter. Two words sum up Mikey's life since the loss of his family.
"No peace," they say.
Of course, Mikey hasn't exactly been alone in his struggle against the Foot Clan's newest leader. April O'Neil, an old friend and Casey (named for her father), were with Mikey to help him challenge Hiroto's technological dictatorship in New York City.
We won't go into the play-by-play of the entire issue, other than to say as expected, the story eventually leads to Mikey and Shredder's grandson squaring off, ready to finally end the feud between the turtle's Hamato clan and the Foot's Oroku clan.
As much as his evolved mutant abilities assist him, Mikey is just barely able to keep up with this new and deadlier iteration of Shredder. Mikey still manages to harness gravity and knock the villain down from high above the skyscraper. He then descends into the sewer that he used to call home. As Mikey appears to have won, Casey, April and their crew flood the sewer and dump the Last Ronin, and New Shredder in a dirty, uninhabited area outside of New York.
Broken, tired, and nearing death, the two warriors charge at one another one last time. They fight each other in a scene that is reminiscent of The Dark Knight Returns's famous mud pit battle. In desperate attempt to win, Hiroto turns on a failsafe for his armor suit and releases a devastating amount of electricity, which kills both him and his mortal opponent.
Casey and April reach the scene just as the only Mutant Ninja Turtle is making his last crawl from water to land. Casey gives Splinter his journal as he takes his final breaths. Mikey shows Casey his last act, revealing that Splinter has edited Mikey's father's journal and changing only the last lines.
"Know peace," they say. The Michelangelo is killed.
A pair of epilogues end the series. The first episode sees Mikey waking up again as a teenager, in New York City, at dawn. His fallen brothers Casey Jones and Master Splinter meet him, commenting that New York City has an unusual odor.
"Yeah it does," says Mikey. It smells just like home. "
In the second epilogue, we catch up with April and Casey, who are still working to keep New York safe from whatever threatens it. April is busy working on salvage tech, while Casey trains as a Ninja. Only for a second, she stops to visit her mother and check on the progress of an experiment that she is conducting. The experiment involves four baby turtles.
"To be continued…" reads the final panel.
What's next for April and Casey? TMNT co-creator Kevin Eastman and Last Ronin writer Tom Waltz gave Newsarama some hints all the way back in December of 2020.
Grant DeArmitt is a NYC-based writer and editor who regularly contributes bylines to Newsarama. Grant DeArmitt is an avid horror fan. He has contributed reviews and features to Nightmare on Film Street and Monkeys Fighting Robots. Grant says he probably isn't a werewolf… but you can never be too careful.