An 18-year-old girl has been commended for pulling an "epic" prank on her mother and stepfather after they left her out of the family photo.
Photographs play a crucial role in familial bonding and, in the case of children and young adults, can give them a sense of value and understanding about where they came from.
" We cannot undervalue the power of photos to maintain our feelings of belonging . They cement us into our networks," Professor Geoff Beattie, a U.K. psychology academic, explained in 2009.
" For children, especially, the act of looking at photos is part socializing. It helps them to understand who they are and how they fit in the family. displaying photos of our children in different phases of their lives is a public declaration that they are loved. "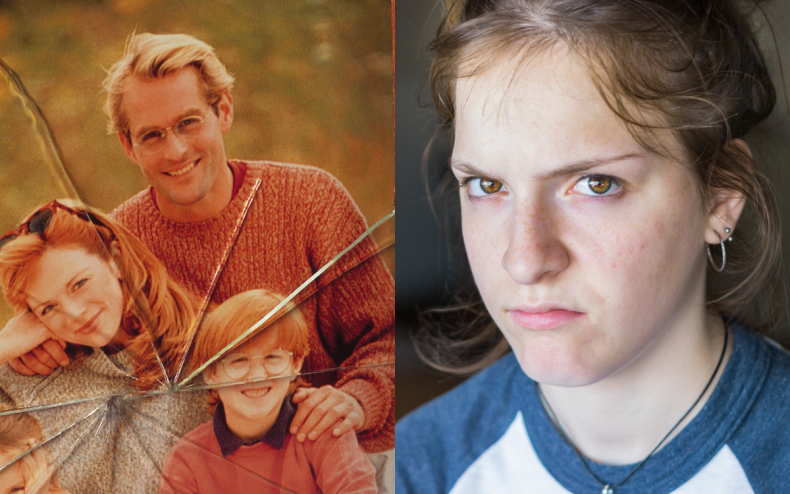 With photos playing such an important role in tying loved ones to the family unit, it's perhaps unsurprising to learn that the girl, writing as daisydelo on Reddit, was aggrieved to discover her mother, stepdad and two young half-siblings had taken a series of family photographs without her before Easter.
According to the young woman, writing in a post that has earned over 20,000 upvotes, her mom had her when she was 17 and long before she met and married her stepdad.
Though her mom tried to explain away the snub, arguing that they "needed them printed in time" for Easter and her daughter is "at college," she still only lives 25 minutes away. In any event, her daughter stated that she believes her stepdad feels resentful of his family including "some other guy's child", especially since he originally misspoke about the photo and claimed it was only for close family members. "
But rather than stay made, the girl said she decided to "play a little joke," by heading off to the Walmart photo shop with her two younger half-siblings and a pair of best friends who were game for a laugh.
" We took intentionally cheesy family pictures, with everyone wearing blue jeans and Jean jackets," she wrote. My friends dressed up as my mom, stepdad and best friend. To be my stepdad my friend was a female and I had a male friend who wore a wig, jean jacket and denim dress. "
After noticing how similar her friends looked to her parents', she decided to have a set of cards printed using the same format as her mother and signed it like her.
When she returned home she swapped the pictures that did not include her for the new photos. This meant everyone would receive a photo of her and her family, as well as her siblings and friends.
"Apparently a couple of my extended family members didn't look hard enough at the pictures to notice something was off, and just displayed them," she said.
"Several people commented to my mother that the photo was "funny", which she found pathetic because they thought they were talking of her boring picture with them all sitting in a blanket and carrying a huge Easter basket. "
She was eventually rumbled when her aunt sent her mom a picture of the card. Her aunt sent her a picture of the card and she was furious at her daughter for not sending them the cards.
However, her daughter was determined. She said, "I explained to her that I did not understand why she was so upset. It is not a huge deal to be treated as if you aren't part of the extended family." Her mom was "so mad" that she sent her daughter to college. She has since wondered if it went too far.
Fortunately, people on social media disagreed with that particular assessment. MoonMacabre said, "This is funny." MoonMacabre wrote, "This is hilarious." "
Gigantesghastly commented: "You are an evil mastermind handing out petty justice and we stand and salute you." Curious-One4596 agreed, writing: "Now if only mom and stepdad could learn their lesson and do better. "
Elsewhere, Corpuscular_Ocelot felt little actual harm had been done to the family, compared with the hurt inflicted on their daughter.
" Your friends and siblings had a lot of fun. No one was hurt physically," they stated. Your mother's and your stepfather were able to feel a mild emotional pain compared with what they experienced. "
IHateCamping even suggested she might have created a cherished memory for the wider family. They said that if one my nephews or nieces did this, it would be the best card I have ever received and they'd love to keep it forever.
MissContraiwise was similarly enamored with the prank. They said, "I cannot stop laughing." You are amazing. Your sense of humor is amazing! It would be so nice to have a sense of humor that is both creative and pragmatic. "
Misslo718 added: "This is a genius idea and you actually executed it. Bravo! You were funny and did a great job. "
Newsweek has contacted daisydelo for comment.